Nelson Energy is a privately held Minneapolis-based company specializing in the development of the hydroelectric potential at existing dams.  Nelson Energy is managed by Douglas A. Spaulding, P.E. and Robert P. Larson.
Douglas Spaulding has over 30 years experience in the design, inspection and licensing of hydroelectric projects.  Robert Larson co-chaired the entrepreneurial law section of a large Minneapolis law firm before joining Nelson Energy. 
In 2001 Spaulding and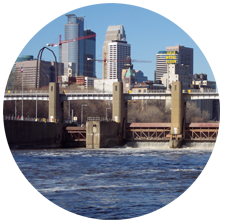 Larson undertook development of the 9 MW Lower St. Anthony Falls Project.  Nelson Energy joined with Brookfield Renewable Power to bring the Lower St. Anthony Falls Project to completion. 
Since 2001 Nelson Energy has developed and licensed over $250 million worth of hydroelectric projects in the Midwest and has an additional 92MW of hydro potential under development at existing dams in Louisiana.
The goal of Nelson Energy is to identify, license and develop hydroelectric generation throughout the United States.